One Step Closer to the Maxis Om Nom Nom Race!
Tuesday, January 04, 2011
Yeah man! The title say it all! It's time for fooooooddd, nom nom nom with Maxis! Nuffnang is now
looking for 60 bloggers to race against time to complete various food challenges all around Malaysia so i must joinnnn :D
it's gonna be
The Amazing Race
OM NOM NOM RACE with my teammate
Jackieloi
Sophia
&
CWKen
& Maxis !!! Hoho !!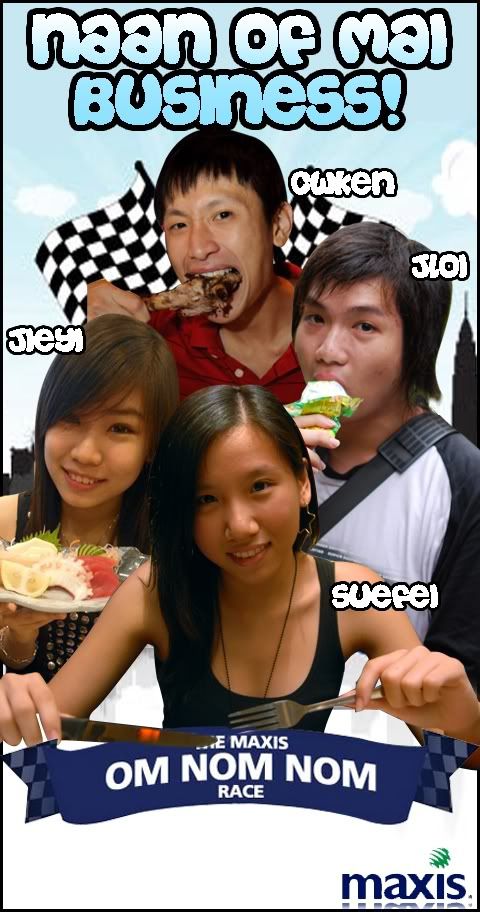 Awesome team, aren't we?
The maxis On nom nom race details:
Date: 15 January 2011 (Saturday)
Venue: Modesto's, Ground Floor, Capital Square, 7 Persiaran CapSquare 50100, Kuala Lumpur
Time: 8am-7pm
(I need size S :D )
Excited much!!! Me love fooooooooddddddd !!
Why do you think i
would love to be a part of this Maxis Om Nom Nom Race?
Cause all i want now is FOOOOODDDD !! Yes yes, FOOOODDD !! I can eat more than you think! ;D
Im gaining weight recently O.o Subway for Breakfast, McD for lunch, Secret Recipe for Tea time, Delicious for Dinner, Starbucks for Supper? Hahaha, i wishhhh :D Or a food-a-thon ? Fuiyoh!
I can't wait to join Maxis Om Nom Nom Race with my teammate and win A trip to Hong Kong 3 days 2 nights with 5-star accommodation (for the winning team members of 4 pax) worth RM10,000- (And also 1 free smartphone each) Gahhh !! :D:D:D
Hoho, please pray hard i get selected kay? :D:D:D
& If your a food-lover like me, check out Finder301 Application is superb cool,
it has the largest food listings in Malaysia, and it'll help you find great food around you. Get phone numbers, addresses, food reviews and even a map to help you get there. Damn nice right? I want an iphone now to use this app so i can eat anywhere anytime i likey! :D Find out more about it @
here
!
So what are you waiting? Join the contest now here !