Naan of Mai Business!
Sunday, January 16, 2011
I know there're number of you keep questioning why did i blog so much about foods yesterday in so many different posts. Sorry guys for spamming your tweets and fb feeds yesterday with all the yummy foods & restaurant. :D

In case some of you doesn't know what's happening, remember the previous post here that im joining Maxis Om Nom Nom race organized by Maxis & Nuffnang? My team Naan Of Mai business with CWKen Jloi and Suefei, yes! We've got chosen to participate the race and and and .. Taadaa ! We won in the race, 1st runner up! :D:D:D:D


This is so much thanks to Nuffnang & Maxis . But never forget the team work we had!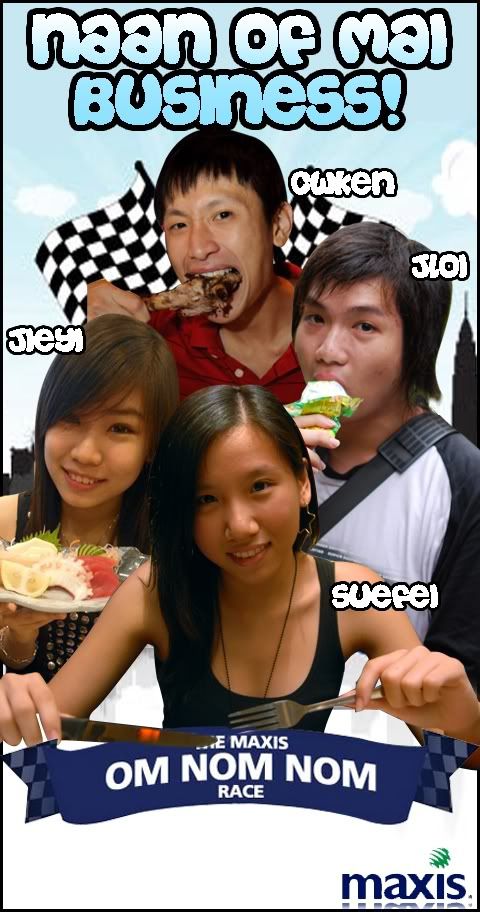 Participants will need to be at Modesto Capsquare, KL by 830-9 to register their team. Then the race started off at 1040am.
First Point - Jalan Tengah, Selangor. Strawberry Fields
Second Point - Tarbush, Sunway Pyramid
Third Point - HJ Samuri, Uptown
Forth Point - Thai Base, Kepong
Fifth Point - Dancing Fish, bangsar shopping centre
Race ended at 540pm.
Well, idk how to explain how they count the points and how to win. But over all progress, Naan Of Mai Business had superb lots of fun! :D
Suefei
+ Me +
CWKen
+
Jloi
= Naan Of Mai Business !
Once again, so much thanks to Nuffnang & Maxis :D
We're looking forward for more hunting/race ! :D